The Region V Public Health Training Center has a variety of resources to share from past collaborations.
Health Equity in All Policies
In 2016, as a result of the ongoing lead water crisis in Flint, the Genesee County Board of Health proposed a Health Equity in All Policies Resolution that was approved by the Genesee County Board of Commissioners. Health Equity in All Policies (HEiAP) is a systematic and comprehensive change in decision-making processes to ensure health and equity are considered before a decision is made. The Genesee County Health Department, with support from the National Association of County and City Health Officials, the Community Foundation of Greater Flint, Community Based Organization Partners, the City of Flint and the Michigan Civil Rights Commission hosted a Health Equity in All Policies workshop on Monday June 4th at the Holiday Inn Gateway Center in Flint, MI. The purpose of the workshop was to engage policy makers, local government officials, and community groups in a discussion about what HEiAP is and how it might be implemented in Genesee County.
Health Equity in All Policies filmed at the June 2018 workshop in Flint, MI. Two sessions from the workshop were recorded and are available to view:
Genesee County Panel Discussion
"See for Yourself: What's in Your Water?"
"See for Yourself: What's in Your Water?" is a community education project developed in 2016-2017 to increase the Flint community's ability to protect itself during the water crisis through knowledge and citizen science.
More than 1,000 Flint residents gained skills and knowledge through twenty community education events, covering topics including:
How water get from its source to your home,
How to test your water for lead and understand the test results
Proper filter use
Getting connected with people who can answer your questions about the water system and provide resources for your home
All training materials are free and publicly available below, in order to support continued community education. Please feel free to use this information and share it broadly!
Adult Training Materials
English
Spanish (Espanol)
Youth Training Materials
Class Reflection Assignment (optional resource for promoting student reflection on each lesson)
Session 1: Drinking Water and Where It Comes From
Session 2: Testing to See What's In Your Water
Session 3: Water and Your Health
Session 4: Pipes and Related Careers
Session 5: Water Filters
Session 6: Film-Making 101 and Storyboarding
Healthy Food, Happy Kids Nutrition Training Materials
These training materials are offered for you to share with your own staff, partners, clients, etc. The purpose of the content is to provide information on lead-shielding nutrients and tips for incorporating them into the diets of children ages 2-6. It is intended for community health workers, child care providers, and others who work with young children. Please follow these steps to access the materials, and let us know feedback at mphtc@umich.edu!
Available materials include:
Presentation slides with speaker notes
Facilitation guide
Resource handouts
Evaluation templates
Public Health Guide to Social Media 101
The Michigan Public Health Training Center (PHTC), a part of the Region V Great Lakes Public Health Training Center, is pleased to offer this introductory guide to using social media in public health. There are many established resources available to support your use of technology in advancing health messages – however, social media in particular is an ever-evolving technology. The Michigan PHTC was pleased to partner with the University of Michigan Taubman Health Sciences Library to offer an online training entitled Social Media Tools since 2011, but recognized a need for updated information in 2015. Trisha Zizumbo, BS, MSA, provided her expertise in building upon foundational resources with current information in the updated Public Health Guide to Social Media 101.
The following on-demand trainings were developed during events co-provided with our partners across Michigan.
Strategies for Identifying Legionella Consultants
August 2017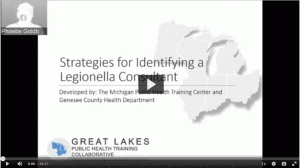 Panel presentation featuring Janet Stout, David Krause, and Ruth Berkelman.
Download a list of Legionella resources (PFD)
Preparing Communities for a Changing Climate
October 2016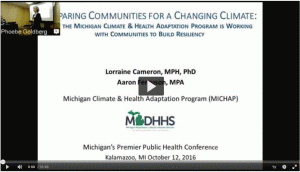 Presentation from the Premier Conference
Ideas for Practice – Suggestions from Research
Faculty at the University of Michigan School of Public Health are engaged in a wide array of research activities and their findings suggest strategies for the public health practice community. Check out the short video clips from some of the faculty, below, along with other resources they recommend!
Noise Pollution
Rick Neitzel
In this video, Dr. Rick Neitzel, Assistant Professor of Environmental Health, describes the impact noise can have on health and offers suggestions for public health practice to take action.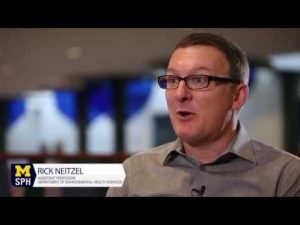 Related Resources
Children, Physical Activity, & Classroom Spaces
Rebecca Hasson
Dr. Rebecca Hasson, Assistant Professor of Kinesiology and Public Health, shares the work of the Childhood Disparities Research Laboratory and their Active Class Space project.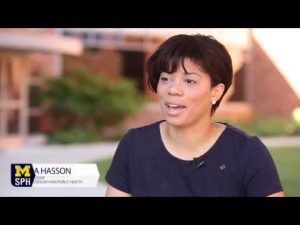 Related Resources
Community Health Workers in Rural India
Bhramar Mukherjee
In this clip, Dr. Bhramar Mukherjee, Professor of Biostatistics, describes her work with community health workers (CHWs) in rural India. This project is in the pilot phase and works to develop a maternal and child health assessment and monitoring tool.
Related Resources
Social Conditions & Health
Belinda Needham
Dr. Belinda Needham, Assistant Professor of Epidemiology, describes her work in exploring how social conditions influence health outcomes and related ideas for public health practice.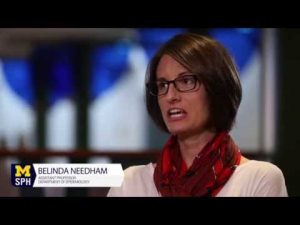 Related Resources
Six Policies to Reduce Economic Inequality – From UC Berkeley
8 Facts You Should Know about the Criminal Justice System and People of Color – From the Center for American Progress
Disparities in Child and Adolescent Mental Health and Mental Health Services in the US – A William T. Grant Foundation Inequality Paper.
Adler, N.E. & Rehkopf, D. H. (2008). US disparities in health: Descriptions, causes, and mechanisms. Annual Review of Public Health, 29, 235-52.
Reiss, F. (2013). Socioeconomic inequalities and mental health problems in children and adolescents: A systematic review. Social Science & Medicine, 90, 24-31.
McEwen, B.S. & Gianaros, P. J. (2010). Central role of the brain in stress and adaptation: Links to socioeconomic status, health, and disease. Annals of the New York Academy of Sciences, 1186, 190-222.
Link, B.G. & Phelan, J. (1995). Social conditions as fundamental causes of disease. Journal of Health and Social Behavior, 80-04.
Ben-Shlomo, Y. & Kuh, D. (2002). A life course approach to chronic disease epidemiology: Conceptual models, empirical challenges and interdisciplinary perspectives. International Journal of Epidemiology, 31(2), 285-93.