The Region V Public Health Training Center has a variety of resources to share from past collaborations.
In addition to our existing resources, we now offer a COVID-19 resource hub with information and tools to address evolving public health needs during the pandemic.
Impacting the Opioid Crisis: Prevention, Education, and Practice for Non-Prescribing Providers
This course, featuring six modules, empowers non-prescribing providers to make a positive impact on the ongoing opioid crisis with knowledge and tools to transform practice and policies. Information on the opioid epidemic and research about evidence-based strategies that are focused on prevention, intervention, education, or policy will all be discussed.
Speakers: Amy Bohnert, Chad Brummett, Patrick Carter, Rebecca Cunningham, Gina Dahlem, Michael Englesbe, Jason Goldstick, Rebecca Haffajee, Paul Hilliard, Mark Ilgen, Allison Lin, Jenifer Martin, Donovan Maust, Quyen Ngo, Phil Veliz, Maureen Walton, Golfo Tzilos Wernette, Sarah Stoddard, and Jessica Roche
Injury Prevention
Injury is the leading cause of death for children and adolescents. This course, designed for training a variety of professions and knowledge levels, draws from a multidisciplinary panel of expert researchers and practitioners using lectures, interviews, and demonstrations. Also relevant for educators, coaches, child care providers, and parents, the course will help you apply useful, evidence-based strategies and interventions.
Speakers: Andrew Hashikawa, MD; Sarah Stoddard, PhD, RN, CNP, FSAHM; Rebecca Cunningham, MD; Elizabeth Armstrong, PhD; Erin Bonar, PhD; Steven Broglio, PhD, ATC; Lisa Buckley, PhD; Chad Brummett, MD; Patrick Carter, MD; Andrew Grogan-Kaylor, PhD, MSSW, MA; Cheryl King, PhD; Karla Klas, BSN, RN, CCRP; Yasamin Kusunoki, PhD, MPH; Shawna Lee, PhD, MSW, MPP; Michelle Macy, MD, MS; Jenifer Martin, JD; Elizabeth Mott, CPST; Richard Neitzel, PhD, MS, CIH; Quyen Ngo, PhD, LP; Anuj Pradhan, MS, PhD; Matthew Reed, PhD, MSE; Jean Shope, BSN, MSPH, PhD; Vijay Singh, MD, MPH, MS; Marie Snodgrass; Maureen Walton, MPH, PhD; Stewart Wang, MD, PhD; Marc Zimmerman, PhD
Indiana Affiliation of Recovery Residences (INARR)
Speaker: AhNonda Bates, MS, LCAC- Indiana Affiliation of Recovery Residences
This presentation focuses on defining and understanding recovery housing and it's importance to the recovery community. Recovery Residences also play a role in Indiana's efforts to end the Opioid Epidemic.
Budgeting Within Local Government
Speaker: Joe Gris, Vanderburgh County Health Department
This webinar focuses on budgeting practices within local government.
Collective Impact Podcast
Public Health Talks is a podcast on emerging public health topics. This one is a two-part series exploring Collective Impact, a form of structured community organizing that aims to amplify individual impact.
What Works for Health: Evidence for Decision-Making
What Works for Health provides communities with information to help select and implement evidence-informed policies, programs, and system changes that will improve the variety of factors that affect health. The research underlying this site is based on a model of population health that emphasizes the many factors that can make communities healthier places to live, learn, work, and play.
Click the image to be taken to the interactive model and website.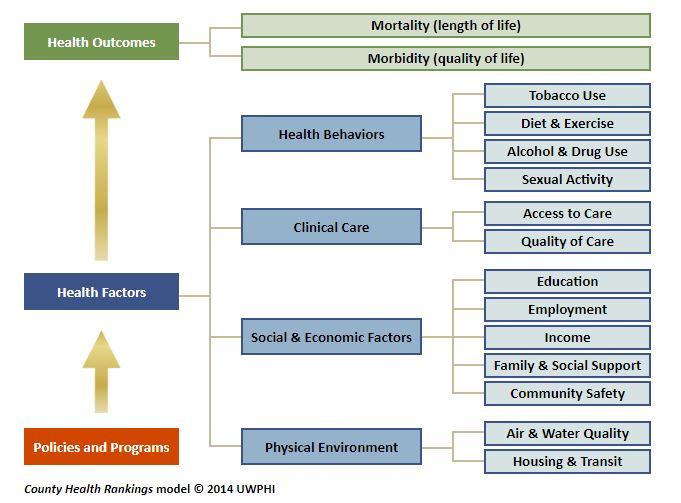 Health Equity in All Policies
In 2016, as a result of the ongoing lead water crisis in Flint, the Genesee County Board of Health proposed a Health Equity in All Policies Resolution that was approved by the Genesee County Board of Commissioners. Health Equity in All Policies (HEiAP) is a systematic and comprehensive change in decision-making processes to ensure health and equity are considered before a decision is made. The Genesee County Health Department, with support from the National Association of County and City Health Officials, the Community Foundation of Greater Flint, Community Based Organization Partners, the City of Flint and the Michigan Civil Rights Commission hosted a Health Equity in All Policies workshop on Monday June 4th at the Holiday Inn Gateway Center in Flint, MI. The purpose of the workshop was to engage policy makers, local government officials, and community groups in a discussion about what HEiAP is and how it might be implemented in Genesee County.
Health Equity in All Policies filmed at the June 2018 workshop in Flint, MI. Two sessions from the workshop were recorded and are available to view:
Genesee County Panel Discussion
"See for Yourself: What's in Your Water?"
"See for Yourself: What's in Your Water?" is a community education project developed in 2016-2017 to increase the Flint community's ability to protect itself during the water crisis through knowledge and citizen science.
More than 1,000 Flint residents gained skills and knowledge through twenty community education events, covering topics including:
How water get from its source to your home,
How to test your water for lead and understand the test results
Proper filter use
Getting connected with people who can answer your questions about the water system and provide resources for your home
All training materials are free and publicly available below, in order to support continued community education. Please feel free to use this information and share it broadly!
Adult Training Materials
English
Spanish (Espanol)
Youth Training Materials
Class Reflection Assignment (optional resource for promoting student reflection on each lesson)
Session 1: Drinking Water and Where It Comes From
Session 2: Testing to See What's In Your Water
Session 3: Water and Your Health
Session 4: Pipes and Related Careers
Session 5: Water Filters
Session 6: Film-Making 101 and Storyboarding
Healthy Food, Happy Kids Nutrition Training Materials
These training materials are offered for you to share with your own staff, partners, clients, etc. The purpose of the content is to provide information on lead-shielding nutrients and tips for incorporating them into the diets of children ages 2-6. It is intended for community health workers, child care providers, and others who work with young children. Please follow these steps to access the materials, and let us know feedback at mphtc@umich.edu!
Available materials include:
Presentation slides with speaker notes
Facilitation guide
Resource handouts
Evaluation templates
Public Health Guide to Social Media 101
The Michigan Public Health Training Center (PHTC), a part of the Region V Great Lakes Public Health Training Center, is pleased to offer this introductory guide to using social media in public health. There are many established resources available to support your use of technology in advancing health messages – however, social media in particular is an ever-evolving technology. The Michigan PHTC was pleased to partner with the University of Michigan Taubman Health Sciences Library to offer an online training entitled Social Media Tools since 2011, but recognized a need for updated information in 2015. Trisha Zizumbo, BS, MSA, provided her expertise in building upon foundational resources with current information in the updated Public Health Guide to Social Media 101.
Curated Trainings
Before we develop our own training, we take an inventory of what's already available from other organizations. In this way, we're able to craft new training around areas of greatest need and interest as well as avoid duplicating material. This inventory is an ongoing resource that is available for you to access to broaden your knowledge of a variety of public health topics which include:
Tribal Health and Climate Change
Physical Activity and Health
Rural Health
HIV and HEP C
Maternal Child Health
Air Pollution, Housing, Asthma
Community Violence